McGovern Medical School
Diagnosis and Repair of ENS in a Physician
Nov 9, 2023
Dr. Sapsowitz had empty nose syndrome (ENS), which occurs when physicians remove too much nasal tissue during surgery, causing nasal airflow disruption.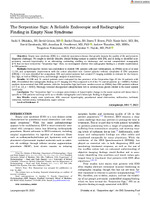 The Laryngoscope
The Serpentine Sign: A Reliable Endoscopic and Radiographic Finding in Empty Nose Syndrome
Sep 13, 2023
Sachi S Dholakia, David Grimm, Rachel Daum, Dawn T Bravo, Nicole Salvi, David Zarabanda, Jonathan B Overdevest, Andrew Thamboo, Tsuguhisa Nakayama, Jayakar V Nayak
OBJECTIVE: Empty nose syndrome (ENS) is a relatively uncommon disease that greatly impacts the quality of life and presents diagnostic challenges. We sought to identify objective clinical findings uni...
Journal Article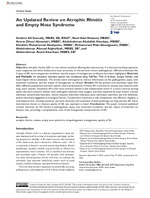 Ear, Nose, & Throat Journal - , Page 1455613231185022
An Updated Review on Atrophic Rhinitis and Empty Nose Syndrome
Jul 14, 2023
Ibrahim Ali Sumaily, Nouf Adel Hakami, Anwar Dhawi Almutairi, Abdulrahman Abdullah Alsudays, Ebrahim Mohammed Abulqusim, Mohammed Maki Abualgasem, Abdulrahman Ahmad Alghulikah, Abdulrahman Awad Alserhani
Objective: Atrophic rhinitis (AR) is a rare clinical condition affecting the nasal mucosa. It is characterized by progressive nasal congestion and thick, bothersome nasal secretions. In this narrative...
Journal Article