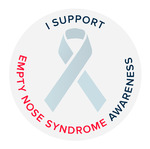 Empty Nose Syndrome International Association
ENSIA Newsletter May 2017
May 30, 2017
Christopher Martin
June is ENS Awareness Month - June 10th is ENS Awareness Day! Like many chronic ailments, there are often efforts by organizations and people to raise awareness and receive proper recognition for thei...
Newsletter
Empty Nose Syndrome International Association
ENSIA Newsletter April 2017
Apr 26, 2017
Christopher Martin
One of the most challenging aspects of managing a complex, misunderstood condition such as ENS is determining what to do about it.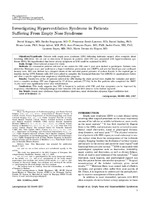 The Laryngoscope - Apr 2017, Volume Issue , Page
Investigating hyperventilation syndrome in patients suffering from empty nose syndrome
Apr 13, 2017
Francoise Zerah-Lancner, Daniel Isabey, Bruno Louis, Serge Adnot, Jean-François Papon, Laurent Boyer, Marie Devars du Mayne, David Mangin, André Coste, Emilie Béquignon
Our results show that ENS was associated with HVS in 77.3% of the patients in our study population. This is the first time that such an association has been identified.
Journal Article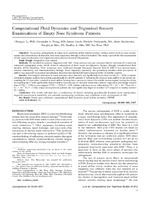 The Laryngoscope
Computational fluid dynamics and trigeminal sensory examinations of empty nose syndrome patients
Mar 9, 2017
Chengyu Li, Alexander Farag, James Leach, Bhakthi Deshpande, Adam Jacobowitz, Kanghyun Kim, Bradley A Otto, Kai Zhao
The results indicated that a combinatory of factors, including paradoxically distorted nasal aerodynamic, impaired sensorineural sensitivity, and potential predisposing conditions, may contribute to t...
Journal Article
Empty Nose Syndrome International Association
ENSIA Newsletter February 2017
Feb 28, 2017
Christopher Martin
Looking ahead, the bottom line is more compelling, data-driven, peer-reviewed research detailing ENS is needed. Dr. Nayak has published research on his ENS6Q and the cotton test, and he has noted to t...
Newsletter